Key Features of the Parent Portal in SCL
Empowering Parents
SCL features empower parents to actively participate in their child's education, stay informed about their academic progress, and engage with the learning process more effectively.
Academic Progress
Parents can access their child's academic progress, including grades, assignments, and assessment results.
Ease of Payments
Parents can view and manage fee payments, financial records, and any outstanding balances.
Communication
Parent portal allows parents to communicate directly with teachers, enabling them to discuss their child's performance and address any concerns.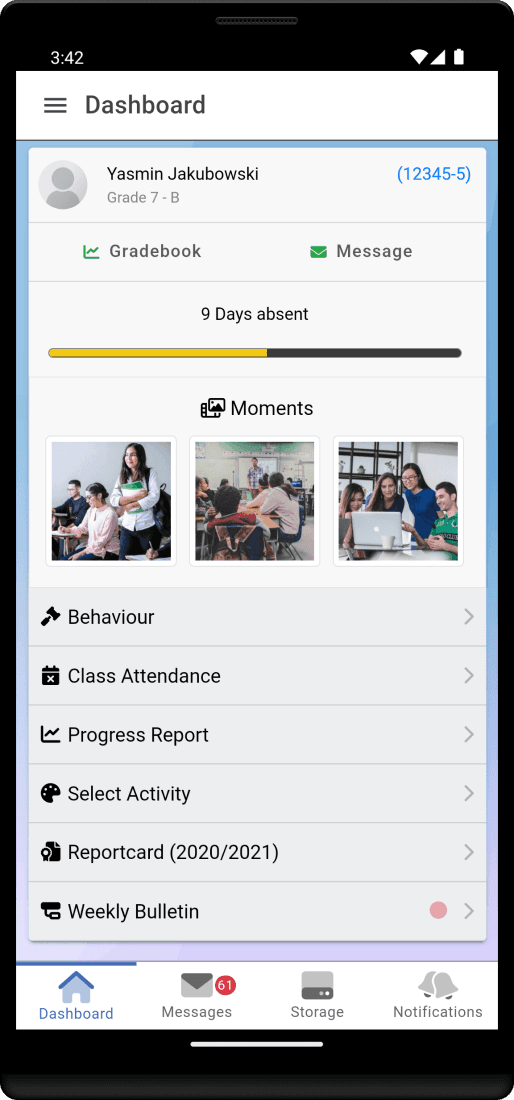 Attendance Tracking
Parents can view their child's attendance records to stay informed about their school attendance.
Contact Information
Parents can update their contact information and manage their personal profiles within the portal.
Calendar and Events
Parents can access the school calendar and stay informed about upcoming events, parent-teacher meetings, and other school activities.
Enhancing Parental Involvement and Student Learning Experience
The Empowering Impact of SCL
SCL enhances parental involvement, improves communication with the school, and empowers parents to take an active role in their child's educational journey, leading to a more positive and successful learning experience for the student.
SCL allows parents and students to explore and select extracurricular clubs or activities that align with the child's interests and talents. This feature provides parents with insights into the available clubs.
SCL include a behavior management module that allows parents to track their child's conduct and discipline at school. Teachers can update the system with information on behavior, such as punctuality, discipline infractions, and positive behavior reinforcement.
Access to School Resources
Parents can access educational resources, study materials, and other content shared by teachers or the school, which can assist them in supporting their child's learning at home.
Timely Notifications and Alerts
The system can send timely notifications and alerts to parents about important events, parent-teacher meetings, school announcements, and other relevant information.
SCL include a secure section where parents can input and access their child's medical information. This section can contain details such as allergies, chronic illnesses, medications, emergency contact information, and vaccination records.
Moments is a secure and private to the school photos sharing allows parents to view and download pictures from various school events, field trips, sports days, cultural programs, and other activities.
Real-time Access to Information
Parents can access their child's academic performance, attendance records, homework assignments, and exam schedules in real-time through the school management system. This allows them to stay updated on their child's progress and be more involved in their education.
Convenience and Time-saving
By having all relevant information available in one place, parents can save time and effort in accessing and managing their child's educational data.